About Us
Power Wing is an experienced manufacturer of household electrical appliances such as coffee makers, kettles, juice extractors and more. Excellent quality is guaranteed as our products are made to international standards. Our large product line provides you with more choices. Prices are competitive and OEM orders are welcome. Please contact us for more details.
Business Type
Manufacturer
Export Percentage
100 percent
Primary Competitive Advantages
OEM Capability
Production Capacity
Large Product Line
Reliability
Reputation
Buyer's Specifications Accepted

Brand names:
Powind or Customer brand name
Type of Machinery in Factory:
Plastic injection machine
Metal pressing machine
Mould making facility
Ultra-sonic welding machine
Spot-welding machine
Life-testing machine
Testing instrument

Number of Production Lines:
4
Export Markets:
Worldwide
OEM Services Provided
Yes
Product Range:
Coffee makers
Kettles
Juice extractors

Safety Approvals:
GS
CE
UL/cUL
ETL/cETL

Factory Size in Feet
360,000
Factory Size in Metre
34,000
Factory Tour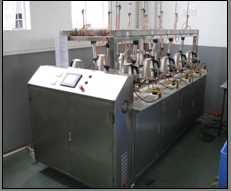 Advanced equipment are utilized in our factory including four automatic electrical appliance assembly lines. A high level of specialization maintained in the factory floor guarantees that products are manufactured to pass international quality approvals.
Profile
Total area of 34,000sq.m.
Located in Shunde, China
Staff Details
Production Staff - 300
Engineer - 10
R&D Staff - 3

Materials/Components
Sourcing from Hong Kong, Taiwan, Japan and mainland China.
Machinery in factory
Plastic injection machines
Metal stamping machine
Mould making facility
Ultra-sonic welding machine
Spot-welding machine
Life-testing machine
Testing instrument such as hi-pot tester, earth bong tester, power meter
Production line
Automatic life testing machine

Safety/Quality Approval(s)
GS
CE
UL/cUL
ETL/cETL